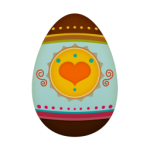 Well done to those of you who found our hidden Easter Egg over the bank holiday weekend. For those that didn't, here's the (not very well hidden) location. Simply scroll down to the bottom of our homepage and click on the rounded corner as shown in the image to the right.
We hope you've had fun destroying our page! This was all possible thanks to Alex Leone, David Nufer and David Truong and their KatHack project (which can be used on any website – see the instructions on the KatHack page). We'll leave it up for a while so you can have a play but it's not staying forever.
Let us know what you think in the comments here or on Facebook.