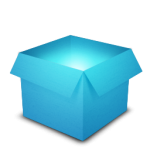 Want a simple way to backup your important files quickly and easily? Dropbox is the answer. We'll talk you through getting your own Dropbox and even get you 250MB of extra storage space for free.
Create a free Dropbox account. Using this link will net you the extra 250MB of space.
Download and install Dropbox by following the instructions on the site.
When the install has finished, you will find a new folder called Dropbox within your Documents folder (although you can choose where you want this folder to live in the Dropbox settings).
Any files you put into this special folder will now be automatically uploaded to Dropbox and can be accessed from any web browser via the Dropbox website.
The standard free account gives you 2GB of storage (plus 250MB if you use this link to sign up) and if you find it useful, they also offer premium accounts with 50GB or even 100GB of space.
If you have a smartphone, there are apps available which let you get to your files from your phone too: Android | iPhone | iPad | Blackberry
This is a great way to sync files across multiple devices – no more emailing files to yourself or forgetting to bring your USB thumb drive home from work! Still not convinced? Take the quick Dropbox tour.
We've also covered some other ways to backup your files in our backup tutorial.
As it's such a versatile service, people have come up with all sorts of interesting ways of using it. Tell us how you use Dropbox in the comments.