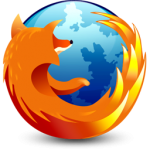 The latest version of Firefox is available to download from the Mozilla servers, before the official release date. Readers might remember that the same thing happened with version 4 just a few months ago.
The official launch day is Tuesday 21st June and as usual, Mozilla are planning some fun stuff for the day. This is all part of the move to a rapid release schedule, getting the latest features and enhancements out to users as soon as possible.
So what's new?
It's certainly a much less dramatic improvement over version 4.0, which was released on March 22 after a development time of more than 13 months. In
fact, at first look, you will not be able to tell a difference between 4 and 5. The layout is identical and the overall look and feel will not reveal any differences at all. There is a list of improvements, many of which most users may not care about. It's not an impressive list for a completely new browser version, but a closer look shows that Mozilla has fixed almost 1000 bugs in total and there are actually more new features than Mozilla says there are.
The major points include improved support for HTML5 and related technologies, a slight speed gain in JavaScript as well as idle connection tuning integration, which should speed up the page load performance of Firefox considerably. There are 38 new "features", my favorite being CSS3 animations, keeping Firefox inline with the Webkit browsers when it comes to web standards.
Firefox 5 Direct Download Links:
If you'd rather wait for the official release, it will be available here.
Let us know what you think in the comments here or on Facebook.