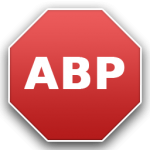 It often takes longer to download the ads on a page than the page content itself (in the case of flash ads anyway) and how annoying are those ads covering the bottom section of YouTube videos!? Firefox and Chrome addon Adblock Plus is here to save the day.
Ads are not just annoying, they are potentially harmful too. Although the site you're visiting may be legit, the ads they carry (which are often out of their control) can infect your machine with all kinds of malware so blocking them is a very good idea.
Download Adblock Plus for Firefox or Chrome and never see another ad again!
Unfortunately, Adblock Plus isn't available for Internet Explorer. Yet another reason to ditch Internet Explorer for a better internet experience.
Let us know what you think in the comments here or on Facebook and remember to share with your networks.