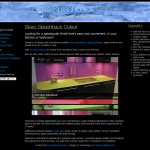 We've just put the finishing touches to our first HTML5 website: Glass Splashback Colour. GSC is an offshoot of Glassact UK, a specialist glass company from Norwich supplying glass splashbacks, glass worktops, image glass and bespoke architectural glass. They already had a website but it was built using a free online site builder which meant it wasn't properly optimised for the search engines, it was poorly laid out and took an age to load.
We've redesigned the site from the ground up to be search engine friendly, cross browser compatible, fast to display and responsive (meaning the layout adjusts depending on your screen size). Try it for yourself: visit Glass Splashback Colour, resize your browser and you will see fonts and images change size, content moves around the page and some items are hidden and others appear.
With the massive worldwide increase in visitors using mobile devices, we now design all of our websites to be responsive. We believe the visitor should have a great experience no matter what kind of device is being used to view a site. There's nothing that annoys visitors more than having to scroll sideways as it interrupts the flow of reading.
You may notice that although the HTML validates, the CSS does not. This is mainly due to vendor prefixes which are currently required to get CSS3 features working in older browsers. As time goes on and people upgrade their browsers, this kind of code will become more and more redundant but for now, it's a necessary evil. While I've got my web designer hat on, it's probably a good time to remind you to ditch Internet Explorer for a better internet experience.
When we're designing a site, validation isn't top of our list. Our view looks something like this:
User experience
Search engine optimisation
Load time
Accessibility
Valid code
We're not alone in this view, some of the most popular websites of today do not validate: Apple, Facebook, Google, YouTube, Twitter, Yahoo, Number 10, Digg, The Times, Microsoft and ebay all have pages that don't validate. That's not to say you shouldn't bother trying, just don't put it above all else. After all, valid code doesn't mean good code just as invalid code doesn't mean bad code.
If your website could do with a makeover, be it in look and feel, to make it responsive or just for SEO, contact us today for a no obligation quote.