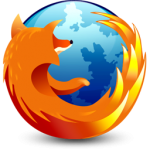 Now that the addon manager opens into a tab instead of a separate window, it makes sense to move other areas of Firefox to this style too. Those of you who have used Chrome will know this is a better way to manage your downloads than a floating window.
It's as easy as installing the Download in Tab extension and voila, no more downloads window to get hidden. It's a very simple addon with very little in the way of options.
An alternative to Download in Tab is the very tidy Download Statusbar which puts the current downloads as individual items at the bottom of the screen:
If you are a regular downloader, you might also find DownThemAll a valuable addition to your addon collection.
Let us know what you think in the comments here or on Facebook.