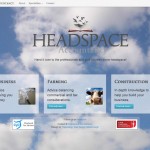 After our SEO success on The Limecrete Company site, Louisa Yallop approached us to build her a website for her new business; Headspace Accountancy.
Headspace Accountancy specialises in offering small business accounting, farm accounting and construction accounting. They take care of the red tape leaving you free to concentrate on running your business. Hand it over to the professionals and give yourself some headspace!
We've built the site to look good on all devices, from small smartphones to tablets to large desktops. It will function correctly in almost all browsers (yes, even IE6!) but for the best experience, visit the site with a modern browser like Firefox or Chrome as we have included some progressive enhancement. This is also the first site we have built with our custom framework which we will be releasing as an open source project on Github in the near future.
If your website needs a makeover for mobile, a spruce up for SEO or you're looking to get your first site designed, contact Trippnology today.